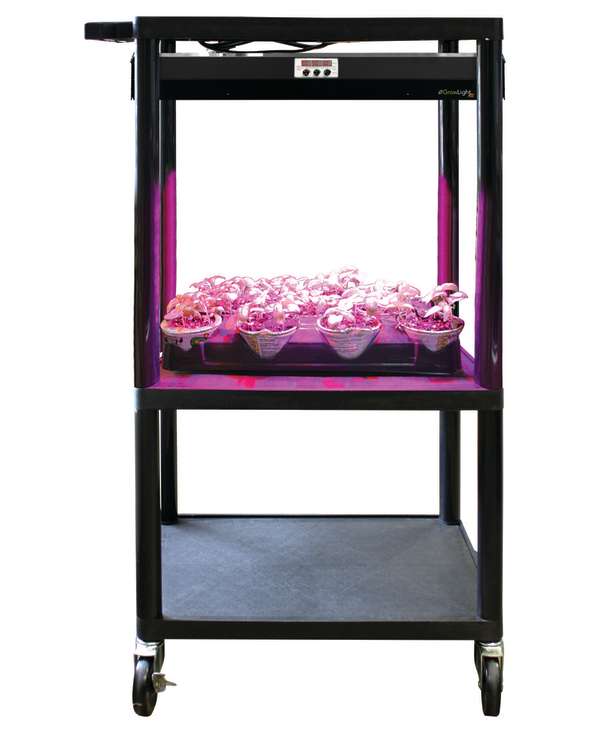 ---
Product Media
 
LED GrowLight™ Kit
The HB LED GrowLight Kit provides everything needed for children to plant and grow variety of herbs, fruits and vegetables ri...
The HB LED GrowLight Kit provides everything needed for children to plant and grow variety of herbs, fruits and vegetables right in the classroom. Utilizing the very latest LED lightwith wavelength tuner and hydroponic technology, children will learnabout all the variables that control growth of plants including soil types, watering nutrients, CO2 levels, function ofroots, as wellas see for themselves how different light wavelengths impact plant growth.
With HamiltonBuhl's LED GrowLight Kit, photosynthesis will no longer be an abstract concept, but will be an observable event as children tune the GrowLightLED lights to the optimalspectrum for the plant they are growing. Our LED GrowLight tuner is designed to allow tuning to the optimal spectrum for the plantduring the plants phases of growth formgermination to flowering.
Faster, Healthier Growth
The HamiltonBuhl LED GrowLight uses solid-state LED lighting, providing fine-tuned, light optimized plant growth and yield! Our testing consistently delivered50% faster growthversus standard greenhouse growing methods. While individual results may vary, if you follow the directions, you will see faster, healthiergrowth!
Unique Features:

Ability to select the wavelength of the light needed for the specific plants during the various growth phases.
Once setup and turned on, the 3 knobs on the LED GrowLight are used to activate the light wavelength and adjust the intensity of the wavelength spectrum from 0-100% in theBlue, Full-Spectrum White, and Red colors.
For example, in the early stages of tomato growing, dramatic results in stem diameter and root system are achieved by increasing the blue to red light ratio, whereas leaf growthincrease is augmented using higher red to blue ratio at 4+ weeks.
The HamiltonBuhl LED GrowLight Kit allows experimentation at a level not comparable with standard "one spectrum" systems.
Curriculum guide with numerous STEAM activities to implement in the classroom.
Multiple class activities teaching STEM topics from environmental science, plant biology, physics, carbon emissions and its impact, trial and error, problem solving, criticalthinking and comparison analysis are at the ready with the LED GrowLight Kit from HamitonBuhl, not to mention the opportunity to sample herbs, fruits and veggies organically grown by the students themselves!
No customer reviews for the moment.