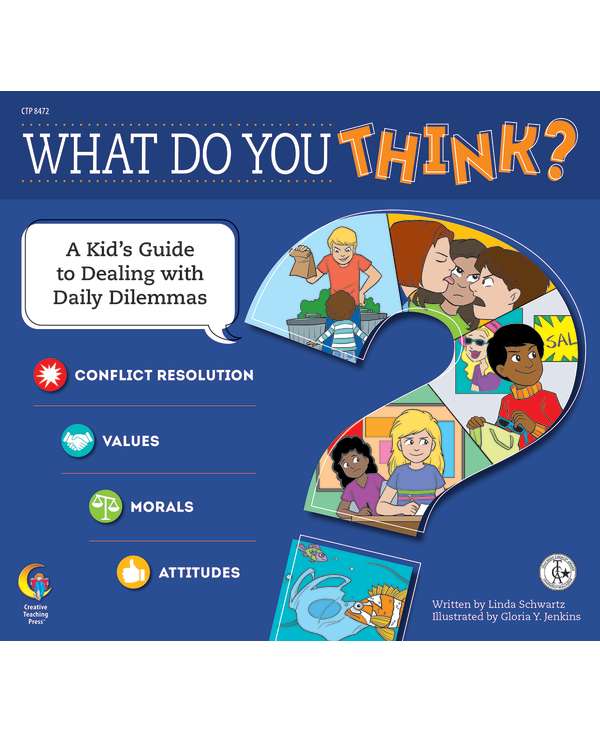 ---
Product Media
 
What Do You Think?
A Kid's Guide to Dealing with Daily DilemmasThis best-selling character education book has been updated and improved! It is g...
A Kid's Guide to Dealing with Daily Dilemmas
This best-selling character education book has been updated and improved! It is great for helping kids learn how to do the right thing!
Over the course of growing up, most children encounter a variety of dilemmas—situations in which they must make decisions. If children are alone in these situations, they must make decisions and resolve the conflicts with little or no guidance from parents, teachers, or other adults. The purpose of What Do You Think? is to prepare children in advance to make decisions and resolve conflicts before the need arises. This book presents over 70 daily dilemmas to help children understand their feelings, clarify their values, and develop their skills in evaluating options, considering consequences, and making choices. This book does not tell the reader how to think or what to choose however, it gives ideas and options for each dilemma that students can consider along with their own ideas.
The topics in this book are perfect for discussion in a classroom or school setting, at the dinner table, in the car driving with a parent or guardian, or in a church group. They can be used during discussions about character traits, life skills, ethics, morals, and values.
Dilemmas are centered around 5 topics:
At home: respecting privacy, using allowance, choosing a hairstyle, missing a deadline, when a divorced parent has a new special someone, respecting property, homework habits, schedule conflict, prejudiced remarks
At school and on the way: setting priorities, smoking, name calling, biased teacher, group report, gossip, vandals, bullies, forging a note, copying a report, being ignored, handling humiliation, cheating on a test
Out on your own: forbidden friend, following the crowd, unwelcome touching, smoking marijuana, honor, shoplifting, lying about your age, ethnic jokes, defending a friend
In your community: too many animals, helping the needy, cutting down trees, animal research, destroying nature, staging a protest, a better neighborhood, in a wheelchair, anti-semitism
Within yourself: resolving conflicts, how you rate as a friend, tips on making friends, defining who you are
No customer reviews for the moment.